Saltaire's History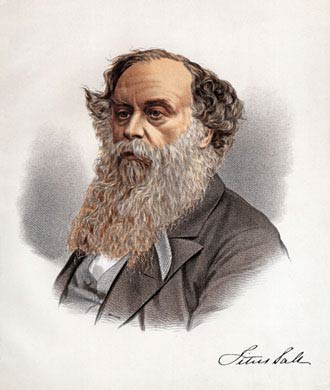 Saltaire Village is near Bradford in West Yorkshire, England. Saltaire was founded in 1853 by Sir Titus Salt, a Victorian philanthropist and leading industrialist who built a textile mill and a village for his workers on the River Aire. Salts Mill is also served by the Leeds to Liverpool canal and a railway.
Salt built neat stone houses for his workers, a school for the workers' children, almshouses for the needy, a hospital, an Institute for recreation and education, with a library and reading room, a concert hall, billiard room, science laboratory and gymnasium. There are allotments, a park and a boathouse, and importantly, a Congregational Church of outstanding beauty. All these buildings have survived and are now listed.
Sir Titus died in 1876 and was interred in the mausoleum adjacent to the Congregational Church. When Sir Titus Salt's son, died, Saltaire was taken over by a partnership which included Sir James Roberts from Haworth who had started work at the mill as a boy. James Roberts eventually owned Saltaire, but had invested heavily in Russia, losing some of his fortune during the Russian Revolution. He bought the Brontë's Haworth Parsonage for the nation.
In December 2001, Saltaire was designated a World Heritage Site by UNESCO. Saltaire's textile mills, public buildings and workers' houses were designed by Bradford architects, Lockwood and Mawson, and are built in a harmonious style of high architectural standards, some modelled on a fine Italianate style. The buildings are individually listed, and the Congregational Church (which became the United Reformed Church in 1972) is listed grade I.
The textile industry fell into decline and Salts Mill closed in February 1986. Local entrepreneur, Jonathan Silver, bought it in 1987 and began renovating the building. Jonathan Silver established the 1853 Gallery, which houses the work of David Hockney. Jonathan died in 1997, and Salts Mill continues to thrive under the care of his family.
Saltaire today
As well as the 1853 Gallery, Salts Mill is home to several businesses and sells a wonderful variety of merchandise including clothes, jewellery, antiques, musical instruments, art supplies, bicycles, homeware and gifts. There are also cafes and restaurants in the building, which is free to access and is open all year except for Christmas, Boxing, and New Year's Day.

Saltaire also has a rich variety of restaurants and bistros and specialist shops.

Saltaire is served by a local website which publishes local news and events (especially on its forum) and has useful tourist tips for visitors. Each year in September, Saltaire hosts a festival which runs for around 10 days. The festival features street markets and theatre, music and entertainment, a carnival parade and much more. Many of the events are free.

Link: Saltaire Village Website
Link: Saltaire Festival (Annually, in September)
Places of interest, in and around Saltaire